A documentary chronicling events immediately before and after the murder of Farkunda Malikzada has just been released. It is a harrowing story, told mainly through the anguished tears of the student's mother and father. (Background)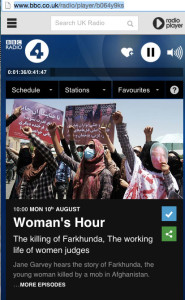 Not for the faint hearted, it is  a timely reminder that even in Afghanistan's capital city the power of the (male) mob is still  potent and the most fortified bastions of 'law and order' are not safe. (Kabul Police HQ bombed).
Watch/listen HERE.
A scholarship established in memory of Farkhunda has been established. More information about it can be found on The Afghan Women's Support Forum website by clicking HERE.