On a blustery March afternoon 12 women made their way to Westminster for a meeting at The House of Lords. As they settled down with tea and notebooks to discuss women, peace and security in Afghanistan there was a sudden noise in the corridor outside. Muffled shouts and the thud of running feet provided a momentary distraction, but barely impacted on proceedings .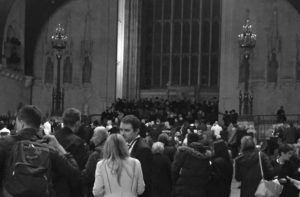 Moments later, as phones started pinging and a fractured announcement about 'the palace' interrupted a speaker, it became evident that something was wrong.
Even then, with minds focused on events in Kabul, several members assumed that the 'palace' in question was there. It was not. The appearance of an armed police officer in the room soon afterwards confirmed that The Palace of Westminster was in lockdown. For those peers, MPs, employees and visitors inside it was the start of a long incarceration. Similar cells of captive groups were confined all over the building, informed by calls and messages from anxious friends and family about what was occurring outside.
Nearby a policeman and his attacker lay dying while paramedics and passers by tended to the horrific injuries of those mown down by a car on Westminster Bridge. One woman had apparently leapt into the Thames to avoid it.
We were at the heart of what was being described as a terrorist attack. Close but cocooned from it, detached yet connected by smartphone technology to reports from all over the world.
Many hours later, as we were led from Westminster Hall and released into darkness and the unusually quiet area that formed the cordon around the Houses of Parliament, the practicalities of getting home began to surface.
Half a mile away in Victoria, all was 'normal' but the events of the afternoon had changed some lives for ever. For those injured, or related to the maimed or dead, nothing would ever be 'normal' again.